LOCH AN EILEIN ELOPEMENT, CAIRNGORMS NATIONAL PARK, SCOTLAND
LOCH AN EILEIN ELOPEMENT, CAIRNGORMS NATIONAL PARK
Early, at the beginning of the year, we met Sabrina & Angus. The heart of the Scottish Highlands, Cairngorms National Park near Inverness was the perfect place to spend a day out of the whole world and slow down for a bit.
The cottage with the soul of the old school-house was everything we adore – vintage & traditional old-souled house definitely was on our list to stay in for a night.
Sabrina & Angus met a year ago after Sabrina arrived in Scotland and just before she sadly decided to go back home to Canada. Then most unexpectedly Angus crossed her life paths and brightening the days found a way to her heart and so it makes her stay.
Sabrina studied history and it is worth mentioning that Sabrina worked as a guide at this time not only showing people around the most atmospheric corners of  Edinburgh but also writes interesting articles on her –BLOG- to find out about hidden gems and fun things to do in the city.
Angus, he's an artistic soul and a one-man-band called The Lower Depths. He plays on all sorts of instruments & makes music, and sings. He truly has a great talent and we highly recommend checking his albums –HERE-. If you like Bob Dylan or John Lennon, you're going to love his music.
We are finally excited to say that shortly after the day out together, Angus asked "the question" and Sabira said yes! Now, they are planning a wedding!
We were relaxing most of the time, enjoying the music, the place, and its atmosphere. Angus made a fire and played guitar while singing his songs. It was really very unique and thoughtful moments for us as we have never had an occasion before to experience live music like this. We even had a chance to listen to some piano music playing by Angus, of course.
Later that day Sabrina & Angus took some time to themselves to write letters and express their love and all they had learned over the past time together. We ended the day all sitting together around the fire, talking and looking forward to the next day Loch an Eilein Elopement.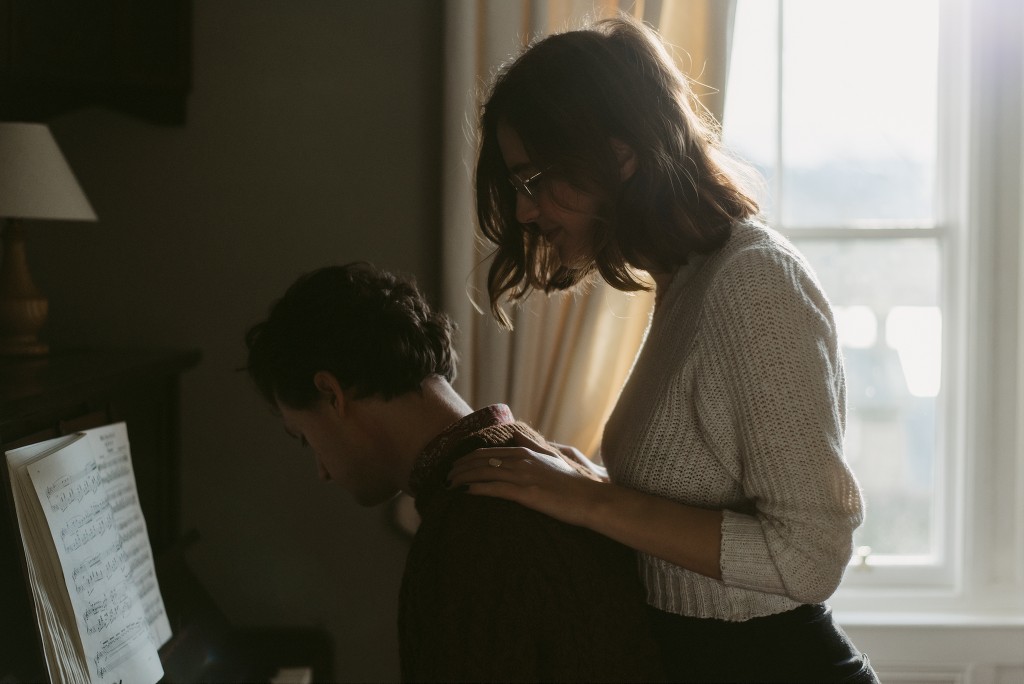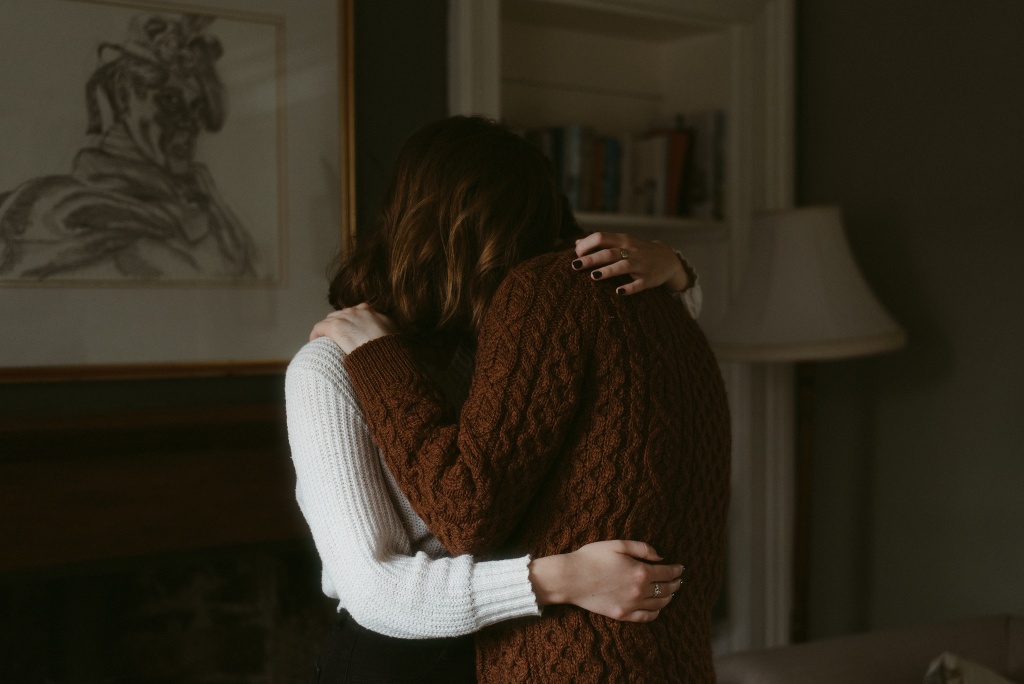 It was a pretty cold and cloudy morning. Sabrina and Angus woke up early to get ready. We quickly jumped into the car to find ourselves in one of the most beautiful places in the Scottish Highlands, Cairngorm National Park. It is an amazing area, with many lochs and mountains perfect to elope. We went to Loch an Eilien, where Angus once again could read to Sabrina his moving love letter and wander around until evening to watch together how the sun sets below the horizon.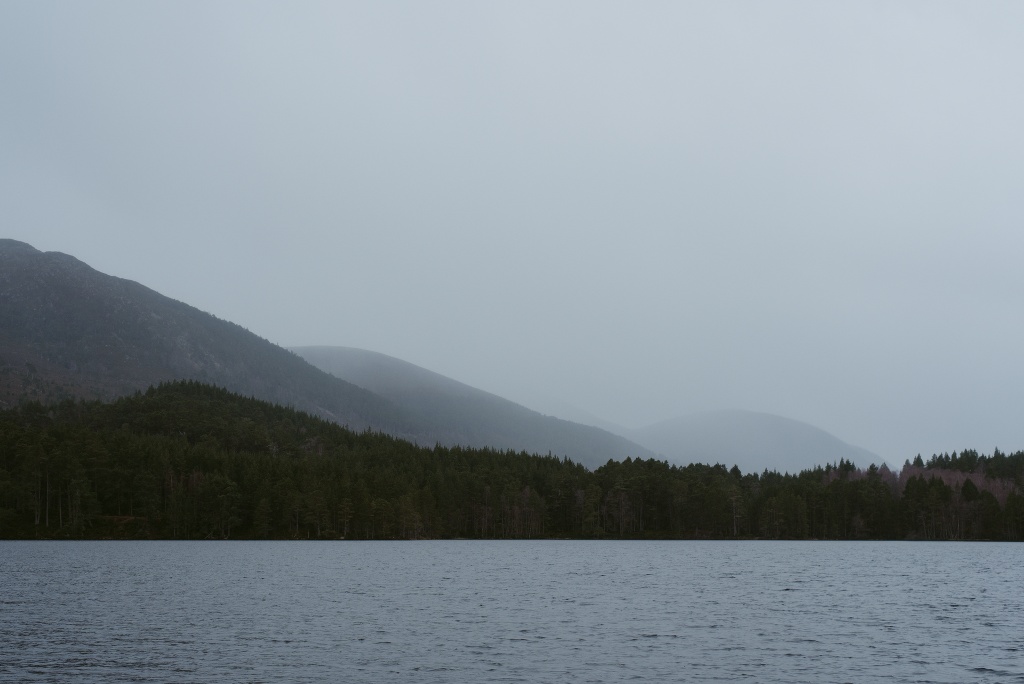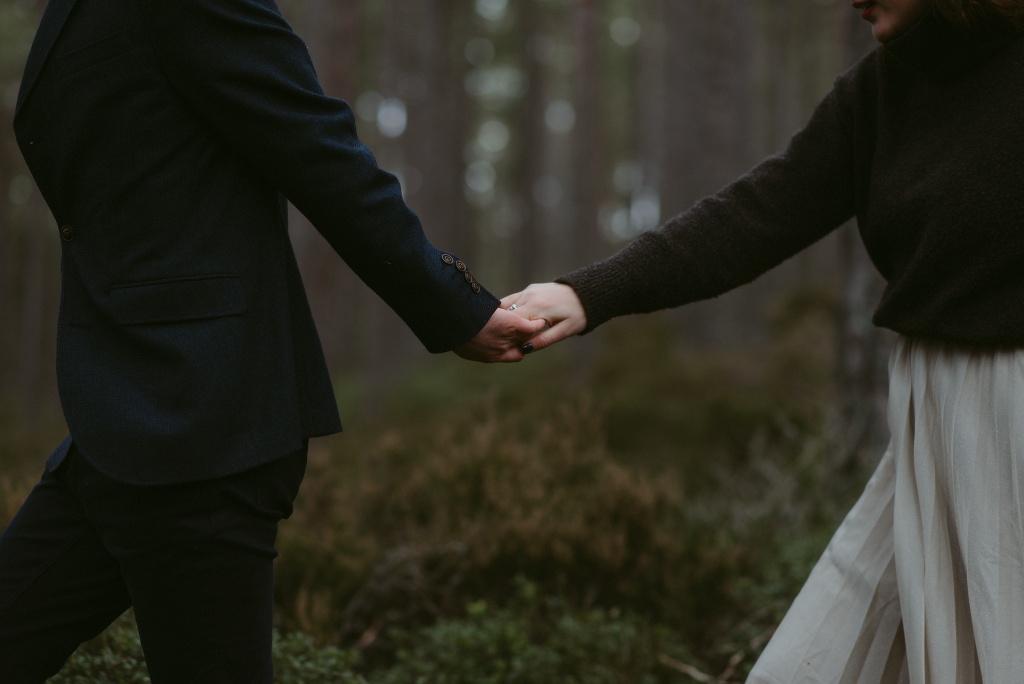 If you would like to be informed about new posts, please leave us your e-mail.